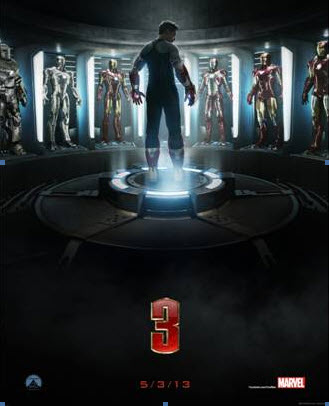 The thought of an
Iron Man 3
hasn't always excited me, especially after
Iron Man 2
didn't feel as fresh as the original. And with so many superhero films dropping every year, including the mother of all superhero films,
The Avengers
, coming out this year, would another standalone
Iron Man
film be worthwhile? Admittedly, even before
The Avengers,
was released, and as time went on, I became more intrigued by what this film might offer, especially with actors like Rebecca Hall, Guy Pearce and Ben Kingsley in the mix-as well as a new director, Shane Black, replacing Jon Favreau.
And then yesterday, the first trailer for
Iron Man 3
was released- and I have to say, this looks like it has the potential to be really good. I don't want to oversell it and say it could be "ONE OF THE BEST SUPEHERO MOVIES EVER" but it could definitely turn out to be the best of the three
Iron Man
films, as well as being one of the best films produced by Marvel Studios so far. Emotionally, I found the trailer really affecting, particularly in showing how Tony Stark (Robert Downey Jr.) was affected by the alien invasion in New York at the climax of
The Avengers
. It really demonstrates that, despite the zippiness and comic book style fun of that film, the battle at the end eventually took an emotional toll on Tony. This film isn't just an extension of the
Iron Man
franchise, but of the Marvel Cinematic Universe as well, and emphasizes that what happened in
The Avengers
was a game changer for everyone.
I particularly like when Tony tells Pepper Popps (Gwyneth Paltrow), that he wants to protect the only thing he can't live without, meaning her. The romance between Tony and Pepper has thankfully been one of the more enjoyable aspects of these films, rather than something which drags them down- and it looks like the events of this film will put Pepper in danger. Is it possible they'll go for an emotional gut punch and have Pepper die? It looks like Happy Hogan (Jon Favreau) is fatally wounded in one shot one of the trailer, which means Happy may will be the sacrificial lamb, ala Phil Coulson, in this film.
Of course, the big new edition to this film is Ben Kingsley as the Mandarin. I'm not well versed in the character's comic book history, or
Iron Man
history in general. Here's a rundown of his history here:
http://en.wikipedia.org/wiki/Mandarin_(comics
). If you remember, in the first Iron Man, the terrorist group that captured Tony Stark was named The Ten Rings, in reference to the Ten Rings that the Mandarin possesses. Is the Mandarin the leader of that group? In the trailer, we see a shot of the Mandarin's hands, complete with the Ten Rings. After The Avengers, it's not completely out of the question that those rings have magical powers like they do in the comics. It would also seem like a waste for the Mandarin to be wearing those rings for any other reason.
I'm interested to see if Shane Black's sensibilities come through in the film. Black was the screenwriter for Lethal Weapon as well as
Kiss Kiss Bang Bang
, which also starred Downey Jr. Black has a ear for sharp dialogue (he's a screenwriter on this film) which comes in handy for Stark's verbal wit. While I like Favreau did in the first two films, and its impressive he was able to hand large scale blockbusters after doing something
Elf,
I feel a different director could make things feel a little bit fresh.
There's a definite
Dark Knight Rises
vibe to the idea of Tony Stark being
metaphorically taken back to the cave
from the first film, as Marvel Studios President Kevin Feige has stated. Still, after
The Avengers
, I think this is a perfect follow up due to its seemingly darker vibe as well as the notion that after Tony finally becomes a team player, he'll have no one to turn to in this film- he's have to rely on his intellect and his cunning. Hopefully there''ll be a good explanation as to why S.H.I.E.L.D or the other Avengers can't back him up.
Iron Man 3
hits theatres on May 3, 2013. Here's the trailer for those who haven't seen it yet:
<iframe width="560" height="315" src="
https://www.youtube-nocookie.com/embed/5EjG-1U3wqA
" frameborder="0" allowfullscreen></iframe>