Warning: Spoilers Below
Deadpool 2 is the most surprising superhero film I've seen in some time. This isn't due to any originality regarding the plot; as with the first instalment it borrows plot points from other films, most prominently from The Terminator and Looper. What I mean by surprising is how emotionally affecting it is. For all the irreverence and ironic detachment associated with the character, Deadpool 2 is perhaps the most nakedly sentimental superhero film since last year's Guardians of the Galaxy Vol. 2. And like GOTG Vol. 2 I ended up liking this go-around more than it's predecessor.
Now, since the film has been out a while I believe I can talk freely about the plot but but if you still haven't seen the film, turn back. At the film's beginning mercenary Wade Wilson/Deadpool (Ryan Reynolds) fails to kill one of his targets, resulting in the death of his lover, Vanessa (Morena Baccarin), when the target returns to enact revenge. While it appears like an example of killing the love interest as a revenge motivation, the film handles her death with genuine pathos. Deadpool can't get revenge since the guy who killed Vanessa is killed after he and Deadpool are hit by a car. Deadpool has a healing factor so he can't die. Deadpool blames himself for Vanessa's death and attempts suicide but again-due to his healing factor- he's essentially Bill Murray in Groundhogs Day.
Deadpool attempts to better himself, finally conceding to X-Men Colossus and joining the X-Men as aa trainee. His first mission involves talking down Russell (who nicknames himself Firefist due to to his firestarting abilities) at a mutant re-education centre. Realizing Russell has been abused by the orphanage staff, Deadpool kills one of the staff, leading to him and Russell being put in a mutant prison called the "Ice Box."
David Leitch, co-director of the John Wick films, takes over from Tim Miller; Leitch's approach is both consistent with the original but he brings his specific action sensibilities to the table, specially in a jail break-in sequence with time-travelling mutant Cable (Josh Brolin). While the action was good in the first, I feel it's even stronger here. The film is packed with comedic and genuinely impressive comic-book-brought-to life set-pieces.
I love how this film delves more in to X-Men thematic territory than the first, focusing on a young mutant who has the choice to either be a Magneto or a Xavier. Funnily enough, this film feels more like the X-Men comics than the traditional X-Men comics- we have yellow costumes, Juggernaut being monstrously big, and power suppressor collars.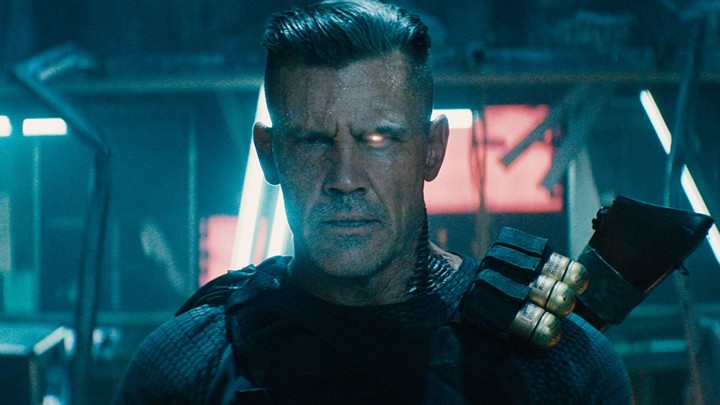 Complicating things further is the emergence of the aforementioned Cable (Josh Brolin). Russell kills Cable's family in the future and Cable plans to prevent that. Brolin is spot-on casting considering his history of playing gruff tough guys. He plays Cable seriously but not to the point of self-parody. To stop Cable, Deadpool puts together "X-Force," which includes Domino (Zazie Beetz), whose mutant power is being lucky. The movie anticipates the audience reaction to has Deadpool outright say that luck isn't a power. The film then has fun visualizing how luck actually is her power in both cool and humourous way.
This isn't strictly a Deadpool/Cable buddy film though the two eventually have to team-up when Russell aligns himself with the Juggernaut and attempts to enact his own revenge. Deadpool and Cable are both men who've suffered tragic losses. The difference is in how they deal with them. Cable represents the more atypical revenge quest while Deadpool blames himself for Vanessa's death, attempting to better himself through helping Russell. This puts both their motivations at odds and the climax is largely about the two character arcs will be reconciled
I will say, as much as I loved the set-up and subversion of the X-Force team- with them all except Domino dying after jumping from a helicopter, it does feel like the second act is just a extended joke rather than structurally pushing the story forward. I also wish Negasonic Teenage Warhead (Brianna Hildebrand) had gotten a little more to do. On a side note, it's great that she has a girlfriend-Yukio- and the film doesn't make a big deal out of it. There's a little bit of contrivance in how Deadpool says he doesn't care about Russell so that Russell can team up with Juggernaut; I think Deadpool and Russell needed a few more moments together to beef up their relationship.
The film pays off emotionally when Deadpool does "die," taking a bullet for Russell while having a collar on. The whole idea of Deadpool going to heaven may sound hokey to some but I really went with it. And as I said before, it's surprising since these films would be the last you'd expect to literally take it's wise-cracking character to heaven. I believe these two films have been able to ground Deadpool in some kind of emotional reality while stilling injecting the requisite fourth-wall breaking and digs at the superhero subgenre.
I also liked how Cable's arc payed off, with him going back in time and finding a way to saving Deadpool. He finds redemption and discovers the future is not set, that Russell can still be a good person. I wanted more future scenes with Cable to flesh out where he came from but I understand the filmmakers didn't want to waste too much time getting Cable in to the story.
Deadpool 2 may be surprisingly sentimental but maybe it's par for a character who's all about subversion and unpredicatability. And of course, in the mid-credits, Deadpool goes back in time and saves Vanessa. Does that make the film pointless? I'd say no, since these films don't strictly obey strict continuity and may even ignore that going forward. That, and Deadpool still has learned about family throughout the film. I'd be interested to see the next film explore the consequences of bringing Vanessa back, especially if she becomes more like her comic-book counterpart, the mutant Copycat.
It's a little up in the air whether we will actually get a Deadpool 3. The next film may be an X-Force film with Deadpool as part of the ensemble or in a cameo appearance. I love Brolin and Beetz in their roles and am excited to see them explored further down the line. Regardless, I hope Leitch stays around in this universe and the other creatives behind the franchise take even bigger risks going forward. I'm not quite ready to say Deadpool 2 is in my top ten superhero/comic-book films but it's certainly one of the my favourite of the recent superhero output.