Spoilers Ahead
When Michael Mann's Miami Vice- based on the 1984-89 series he executive produced- was released in 2006, the reaction from audiences and critics was mixed. It's not too surprising that the film didn't completely hit off with audiences or critics. For one, The film doesn't satisfy genre expectations of a crime thriller. There's not a lot of action, the story is slow paced in many sections, Farrell and Foxx trade nary a one liner, and most of the characters come across as flat and uninteresting. But since its release, the film has been embraced by critics and toted as a masterpiece. I'm not quite prepared to give the film that label; but I do feel the film is a beautiful and singular work that only could've been directed by Michael Mann.
I think Mann used the title so he could then subvert audiences' expectations of what a big screen Miami Vice remake would look and feel like. While it does borrow elements from the series, this is not a homage to the show. There are no cheeky references and it's not interested in being meta like the 21 Jump Street films that came later. Mann and his actors play things straight. Mann uses digital photography (As he did with 2004's Collateral and 2009's Public Enemies) to create a real world atmosphere and puts us in the midst of the action throughout the entire film. The movie exists between the real and the romanticized, resulting in something truly sublime. Instead of a throwback to the style of the 80s, Mann forges a visual landscape that's thoroughly modern but also transcends its era and becomes timeless.
If haven't seen the film yet then try to get your hands on the theatrical cut. In North America, the director's cut is the only version of the film available. The director's cut begins with a prologue that sets the stage for a prostitution ring bust by Miami police officers Sonny Crockett (Farrell) and Ricardo Tubbs (Foxx). This set-up takes away from the theatrical cut's opening, in which we're shoved right in to the night club, where the bust is to happen, music blaring, the camera giving us close-ups of our main players.
Sonny and Rico soon become involved in a undercover operation to take down a drug cartel. They meet up with Jose Yero (John Ortiz), the second in command to the cartel's leader, Archangel de Jesus Montoya (Luis Tosar). Montoya's financial adviser and lover is Isabella (Gong Li), with whom Sonny becomes romantically involved.
After seeing the film three times, I still couldn't tell you every aspect of the plot. But with many noir and noir-inspired films, I don't think the plot is what really matters. Mann uses the plot to further create a feeling of authenticity. When characters on screen about what's going on, we feel we're getting a first hand view at the way these kinds of operations go down. What really matters to Mann is the existential dilemmas for the characters, which I find is also the most noir aspect of the film. As Sonny and Isabella begin their love affair, they're both very conscious it has no future. Again, this is a very noir-like sentiment. Noir characters exist in a fatalistic world where there's usually only one outcome, and it's usually tragic.
Ricardo and fellow police officer Trudy Joplin (Naomie Harris) are also in a romantic relationship. While their relationship has a more optimistic future, Trudy is kidnapped by the Aryan Brotherhood who is working with Montoya's cartel. Trudy is rescued but then nearly killed by a bomb detonated by Yero. This incident makes real to Rico the fact this job can get Trudy killed. Rico tells Sonny: You know what gets me. The prospect of her losing her life over this bullshit line of work." When Sonny asks if that's what Trudy thinks, Rico says "No, it's what I think." It's a nice character moment for Rico, showing his vulnerability but his anger in the face of violence.
While the characters in Miami Vice seem at first glance to be a little flat, after a few viewings they become more textured and interesting than on an initial viewing. The aforementioned scene is an important one in showing the warmth and openness between Crockett and Tubbs. Then there's the scene between the two before the final shootout which Rico asks if Sonny is ready for his relationship with Isabella to end. Sonny says he's "most definitely not ready." That Sonny is able to be this honest- and like Rico earlier, vulnerable- with his partner further highlights the strength of their partnership.
Similar to the noirs of the classic studio era, Miami Vice creates a heightened language of its own. "Why do I get the feeling everyone know we're 15 blocks out?" asks Sonny as he and Rico are on their way to see Yero. "'Cause everyone knows we're 15 blocks out" replies Rico. The film's dialogue is also what helps give the characters texture. One of the best scenes in the film is the first meeting with Yero, in which Sonny and Rico have to convince Yero to use them in the cartel's operations. Sonny and Rico turn the tables on Yero, asking him if he's a cop. And Rico says to Yero: "[W]e didn't come down here to audition for business. Business auditions for us." This scene showcases the tightrope undercover cops have to walk when entering in to this kind of world and working with criminals. And the scene questions how much is this the real Sonny and Rico, and how much is just play acting.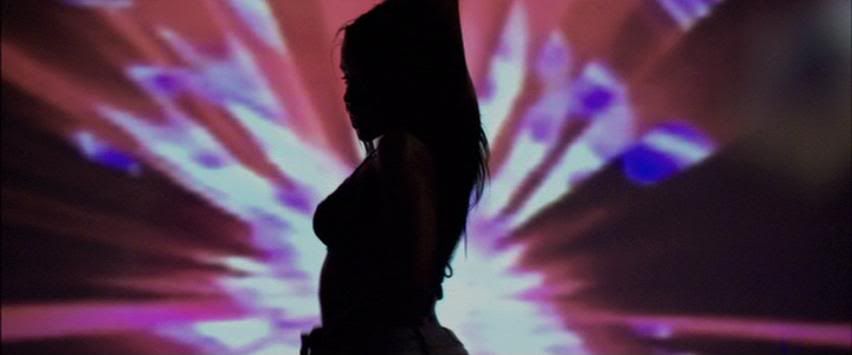 Mann employs music to sell the emotions of the film. A major example is the use of Moby's "One of These Mornings." Mogwi's "Auto-Rock" plays over the final passages of the film and is another example of how the perfect song can enhance the emotion of what's on screen. Miami Vice has what may be one of my favourite closing shots in any film. Sonny comes back to the hospital where Trudy has just woken up from her coma. Sonny has sent Isabella away but there's still hope for Rico and Trudy. The long shot of Sonny entering the hospital is so simple but- with "Auto-Rock playing over it- so sadly beautiful. Just as how the film opened right in the midst of the story, so the story ends just as abruptly, highlighting the matter-of-factness of these people's lives. The fatalism of the story comes not from things ending, but things having to continue on almost without change- but with the memory of what could've been.