A major aspect of the James Bond tradition is the theme song. Over the past 50 odd years artists such as Paul McCartney, Madonna, Shirley Bassey, Tina Turner, and- for the previous film, Skyfall- Adele, have contributed to this tradition. The latest artist to perform the theme tune for a Bond film- this November's Spectre- is Sam Smith. Last week, Smith's song- entitled "Writing's on the Wall"- was released to a mixed reception. I've only listened to the song once and I feel it doesn't have the invigorating power as "Skyfall". I hope over time it does grow on me; hearing it in a theatre over the main titles will likely add a much needed component.
But now I want to take a look back at the previous theme tunes and discuss my top ten favourite amongst them. This is purely a personal preference list rather than an attempt at objectively ranking the songs. Warning: spoilers for certain films will follow.
10. "The World is Not Enough"- Garbage
An easy joke to make about The World is Not Enough's theme song- sung by Garbage lead singer Shirley Manson- is it's garbage. For me, I enjoy this song's ominous passion- particularly when coupled with it's sci-fi/almost-apocalyptic music video. In the video a robot- played by Manson- kills the real Manson, takes her place at a concert and kills everyone with a bomb concealed in its body. Also of note: the song appears to be from he perspective of Elektra King (Sophie Marceau)- making this the only theme song to be told from the villain's perspective.
9. "A View to a Kill"- Duran Duran
The story goes that at a party Duran Duran bassist John Taylor came up to Bond producer Albert R. "Cubby" Broccoli and drunkenly asked him when they'd get someone good again to sing a Bond theme. This eventually led to the band and long time Bond composer John Barry writing the theme song together. At the time "A View to a Kill" was the most high energy Bond theme since "The Man With the Golden Gun." It has a certain goofy appeal- talking about dancing in to a fire- and some vivid imagery- "crystal tears, fall as snowflakes on your body." The song would have been a great way to usher in a new actor as Bond but A View to a Kill has a 58 year old Roger Moore (actually, a stunt double) surf-boarding to the Beach Boys' "California Girls." Still, this is one of the most fun Bond themes in my opinion.
8. "Goldeneye"- Tina Turner
To begin the Pierce Brosnan era of the Bond franchise- and the return of the franchise after a six year hiatus- the Bond producers enlisted the vocals of a legend for Goldeneye's theme song- Tina Turner. Turner is only a couple of years younger than Shirley Bassey (the only artist to perform more than one Bond theme) and the spirit of Bassey is felt throughout the song. Written by U2's Bono and the Edge, the song is one of several Bond songs about Bond himself- or at least about one woman's perspective of him. Turner is the woman in the shadows, feeling betrayed by Bond and wanting revenge. The song feels classic yet works as an introduction to a new age of Bond.
7. "On Her Majesty's Secret Service
"-
John Barry
The only Bond theme to be purely instrumental- aside from Monty Norman's "James Bond Theme"- John Barry's theme for On Her Majesty's Secret Service encompasses the epic sweep and dramatic energy of the film that redefined the Bond mythology (Bond gets married and then his wife is murdered by his arch-nemesis Blofeld). It's dark, exciting and quintessentially Bond. Moreover, Barry's overall score is arguably his best work in the entire series. And Barry's theme is posed to make to a comeback-a version of the theme is heard in the latter part of the second Spectre trailer. Also of note: David Arnold (composer of Casino Royale and several other Bond films) did a fantastic remix of the theme with the Propellerheads.
6. "Diamonds Are Forever"- Shirley Bassey
Along with the return of Sean Connery to the franchise (after George Lazenby's single outing as Bond in On Her Majesty's Secret Service), Shirley Bassey came back after seven years to record her second Bond theme (her first being "Goldfinger.") This song has an undertone of tragedy- it's about a woman who's been spurned by love and finds solace in diamonds- they "won't leave in the night." "I don't need love,/ For what good will love do me?" she asks; "Diamonds never lie to me." Love is finite but diamonds are truly forever. It's tragic, with a tinge of anger and defiance. The song doesn't fit Diamonds are Forever's campy tone but on its own terms it's the most emotionally haunting of all Bond songs.
5. "Skyfall"- Adele
After Casino Royale's rock-infused "You Know My Name" and Quantum of Solace's Alicia Keys/Jack White sing-off "Another Way to Die," the series went down a more classical route with it's theme for Skyfall. "Skyfall" begins with "This is the end," seemingly commenting on Bond's (Daniel Craig) death in the pre-title sequence; It even mentions drowning (which is what almost happens to Bond). In the film Skyfall is the name of Bond's childhood home; but in the song the sky is literally falling- with two people having to face it together- which ties in to Bond and M (Judi Dench) making a final stand at Skyfall. This is one of the best examples of tying the film's themes in to the main song. The song is also just plain excellent: moody, soulful, and ultimately triumphant.
4. "The Man with the Golden Gun"- Lulu
What I love about this song is how upbeat it is considering Lulu (who was in 1967's To Sir, With Love with Sidney Poitier and also sang the film's theme song) is singing about a ruthless hitman- Francisco Scaramanga (the late Christopher Lee). My favourite part of the song is how Lulu digs in the word "kill," especially in the second-last verse. Like "A View to a Kill," there's not much depth to the song but I find this song giddy fun.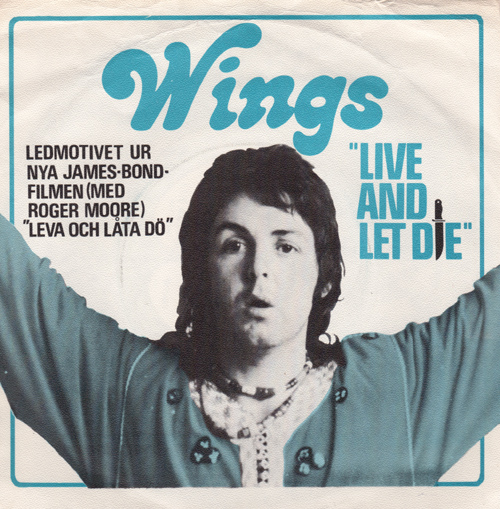 3. Live and Let Die- Paul McCartney and Wings
I think "Live and Let Die" is the most musically ambitious and unique of the Bond themes. It begins softly- with Paul McCartney telling someone that "When you were young/ And your heart was an open book/ You used to say, Live and yet live." McCartney then says if the world gets too much for you, say "Live and let die," a much more sinister proverb. The song then shifts in to an almost satanic guitar riff (which matches the supernatural theme of the story). And in the actual film, the head of the woman in the title sequence turns in to a flaming skull. "Live and Let Die" was the first Bond theme to be nominated for an academy award, to be followed several years later by Carly Simon's "Nobody it Better" from
The Spy Who Loved Me.
"Live and Let Die" was a new sound for a new era of Bond (this was Roger Moore's debut in the role). While the Bond songs would become ballad-y in the late 70s/early 80s, "Live and Let Die" was an energy charged message that Bond was here to stay.
2. "Goldfinger"- Shirley Bassey
The gold-standard for all Bond songs to come. Like most everything in Goldfinger, it's theme defined what a Bond theme. This was Bassey's first time recording a theme (she'd come back for the aforementioned Diamonds are Forever and finally for Moonraker), and her vocals are brassy (matching Barry's score), seductive and overpowering. The song serves as a warning about the film's villain: "Pretty girl, beware of his heart of gold/ This heart is cold." The song has a wonderfully sinister vibe and reaches an almost epic climax with Bassey's drawn out final note. Also of note: singer/actor Anthony Newley (who co-wrote the song with Barry and Leslie Bricusse) recorded a demo of the song before Bassey did her version. It's an interesting and creepy take on the iconic song: https://www.youtube.com/watch?v=1pyJd_rFrlo
1. "You Know My Name"- Chris Cornell
"You Know My Name" is a perfect song title for the film that reinvented of the character of James Bond. Chris Cornell's gnarled and forceful vocals ushered in Daniel Craig's tenure as Bond. We had a new Bond and a new continuity but we still knew who this guy was- we knew his name. The song is told from Bond's perspective- we're asked "If you take a life do you know what you'll give?"- which reflects the pre-title sequence in which Bond earns his 00 status by killing two men. "The coldest blood runs through my veins," we're told, reminding us how brutal the character of Bond can be. The song establishes the arc of the film- Bond in his first mission, having to be willing to die to do this job, the odds (the poker game, Vesper Lynd) will betray him. The song's grit and slight tinge of melancholy sets the stage for what is my favourite Bond film.
Those are my top ten Bond themes. Tell me, what are your favourites and what are your thoughts on Sam Smith's addition to the Bond theme canon.