The Essential Films: A series of writings on films I feel are essential viewings for film lovers, coupled with films that are personal to me.
Warning: This essay contains spoilers.
What's remarkable about John Frankenheimer's The Manchurian Candidate- based on Richard Condon's 1959 novel of the same name- is balances being a satire, a thriller, a science fiction "what if" story, a black comedy, a love story, and ultimately a tragedy- sometimes in the same scene. It remains cohesive throughout- never showing its seams and propelling us through to it's devastating climax. George Axelrod adapted Condon's novel and the film's cohesiveness and humanity owes a lot to him.
The film's plot is outlandish enough to undermine the paranoia regarding communism in America during the 50s (which involved witch-hunts led by Senator Joseph McCarthy) yet also works as a genuine nightmarish vision of the lengths those in power will go to for ever more control.
The dramatic irony of the film is the two Republican characters who supposedly want to weed communists in America-John ''Johnny'' Iselin (James Gregory) and his wife Eleanor (Angela Lansbury)- are actually part of a communist conspiracy. The liberal Senator Thomas Jordan (John McGiver)- who is a so called communist- is the most decent political figure in the entire film.
Eleanor's son from another marriage, Raymond Shaw (Laurence Harvey) is a veteran of the Korean War. In the pre-title sequence Raymond and and the other members of his platoon are captured and taken to Communist China. Two days later the surviving soldiers return to America and credit Raymond with saving them. The platoon's captain Bennett Marco (Frank Sinatra) recommends Shaw for the Medal of Honor. When asked what they think about Shaw, Marco and Corporal Al Melvin (James Edwards), they automatically say "Raymond Shaw is the bravest, kindest, warmest, most wonderful human being I've ever known in my life"
Both Marco and Melvin have nightmares about Raymond being brainwashed and killing two of the soldiers. These nightmares are in fact real. Raymond is to kill the presidential nominee for the Republican party. By doing so, Iselin- the vice-presidential candidate- can become President.
The flashback/nightmare sequences are master-classes in understated surreality. The captured soldiers believe they are at a ladies' tea and garden party. As the camera moves 360 degrees we move from the subjective point of view to the objective- the soldiers are in the presence of officials from Korea, China and Russia. The lady speaking is actually Dr. Yen Lo (Khigh Dhiegh), who demonstrates the power of hypnotism by having Shaw strangle a fellow soldier. In a notable bit of dark comedy, Marco is yawning as Raymond strangles the soldier. The matter-of-fact nature of Marco's yawning makes the act of murder more horrific. We then cut to Marco waking up screaming, which puts an exclamation mark on the scene.
What brought me back to the film- and a big reason why I feel the film lives on so vividly in our minds- is at it's heart The Manchurian Candidate is a tragedy. And like all great tragedies, even when we know the ending we come back, subconsciously hoping the outcome will be different. Sinatra is the star but the film is really about Raymond, a man who's been suffocated by his mother his entire life and hasn't had experienced much true experience. The only time he's been in love is with Jordan's daughter Jocelyn (Leslie Parrish). Raymond and Jocelyn met during the summer before Raymond entered the army. Raymond tells Marco that Jocelyn made him a lovable person. This is one of the great summations of romance I've ever heard in a film. Love can make us better people.
Mrs. Iselin broke up the relationship due to Jordan being a political enemy. Raymond meets Jocelyn again at a party held by the Iselins and they decide to get married. When Jordan tells Mrs. Iselin that he plans to stop the Iselin's political plans Mrs. Iselin hypnotizes Raymond. She sends him to kill Jordan. In the process Raymond also kills Jocelyn.
Marco attempts to undo the programming but Raymond still falls under the hypnosis and goes to assassinate the presidential nominee. But at the moment he's supposed to kill the nominee Raymond resists his programming and kills The Iselins. Marco barges in and Raymond shoots himself in front of Marco. Raymond's chance for happiness died with Jocelyn and one can only sympathize with Raymond's decision to end his life. Harvey is perfect in the role of Shaw. He makes Shaw cold and stern and then slowly shows us the wounded heart at the core of this man.
Sinatra brings a convincing sense of inner pain to the role of Marco. There's a sense that Marco has seen a lot through the years and he's been worn down by life. What stands out to me on re-watch is that Marco isn't really the hero of the film. He participates in the plot and has his own character arc but his ultimate role is that of a witness to the film's events. . In the last scene Marco reads the citations for the Medal of Honor winners. Marco invents one for Raymond:
"Made to commit acts too unspeakable to be cited here by an enemy who had captured his mind and his soul. He freed himself at last and in the end heroically and unhesitatingly gave his life to save his country. Raymond Shaw. Hell! Hell!"
Marco had said earlier in the film that despite saying how brave and warm Shaw was, deep down he knew he thought Shaw was unlikable and repulsive. But why the film's end Marco has grown to appreciate Shaw as a man and see him as a hero- finally worthy of the Medal of Honor. Gone is the shallow automatic response to his feelings towards Shaw and in it's absence a profound human one. Marco has gotten a piece of his humanity back. Coming back to the idea of the film as a tragedy, in the final scene Marco reminds me of the character typical in Shakespearean tragedy who comments on the horrible events that have unfolded.
Lansbury- in an Oscar-nominated performance- is brilliant as Mrs. Iselin. The way she shifts from the atypical overbearing mother and condescending wife to a more sinister power-hungry and fanatical political figure is masterful. The scene in which the assassination plot is described displays acting and direction completely in sync. The result in a unforgettable portrayal of political ambition. Mrs. Iselin never planned for Shaw to be the assassin but he was chosen so the Communists would have power over her. But she swears revenge on them. In her own twisted way Mrs. Iselin loves her son. This is punctuated by a concealed kiss on the lips.
I feel John Frankenheimer remains a somewhat underrated director- despite a prolific career. He began a TV director- directing live television episodes of shows such as Playhouse 90 and Climax!- and then made the transition to film with The Young Stranger (1957). He followed that up with two films starring Burt Lancaster, The Young Savages (1961) and Birdman of Alcatraz (1962), the latter being nominated for 4 Oscars- though Frankenheimer would never receive a Best Director nomination for his work.
Frankenheimer's compositions and camera angles give the film an off-kilter, hallucinatory feeling throughout. Lionel Lindon's stark and rough black & white cinematography underlines the cold and bleak nature of the film. Look at how Frankenheimer shoots the murder of Bobby Lembeck- the platoon's youngest soldier. We see Shaw from Bobby's perspective- a perspective that's indifferent to the violence that's to be afflicted on him.
Lembeck has a innocent smile on his face, making the murder all the more upsetting and unusual.
Frankenheimer shows us Lembeck's murder with out really showing it- in two succinct shots. A high angle shot has Lembeck falling over in his chair, followed by a shot of blood splatter on a poster of Stalin. The shots move by so fast we don't really see a bullet go through Lumbeck's head. Credit goes to Ferris Webster's Oscar-nominated editing, which creates the distinct pace and feel of the sequence and overall film. Since this is Melvin's dream, we see him wake up screaming- as did Marco earlier. The murder becomes almost impressionistic and Melvin's screams add to the horror.
Another evocatively directed scene is the murder of the Jordans. Shaw comes to the house late at night. Jordan tells Shaw he's happy to welcome him to the family. In the above both Jordan and Shaw are enveloped in shadow, contrasting Jordan's happiness at having a son-in-law and our knowledge of what is to come.
As Shaw pulls out his gun, Frankenheimer doesn't show Raymond's face. He's no longer Jordan's son-in-law- he's his executioner.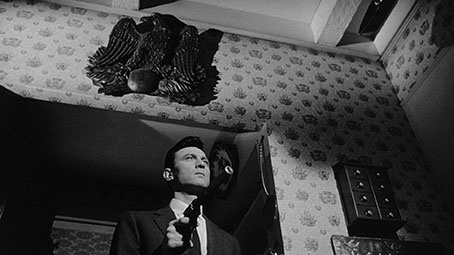 Several shots later we see Raymond in a low angle show. He looms over us, making even more ominous.
The bullet goes through the milk carton Jordan is holding- concealing the violence while also punctuating the act.
Jocelyn races down and is killed by Shaw. After the murders Shaw is in the mid-ground while Jordan and Jocelyn lay dead in the foreground and background, respectively. Frankenheimer uses every part of the frame to great effect. Shaw is almost like a spectre in this shot- just as dead as his two victims.
This is a film I would love to see on the big screen. It's images are so absorbing that I feel a theatre screen can only magnify the effect
Here are some other images that stand out: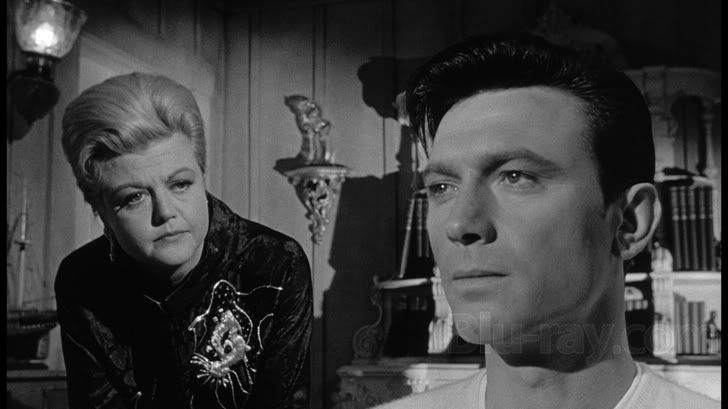 With Mrs. Iselin in the background, she's like a devil on his shoulder. Ultimately Marco will become an angel of sorts.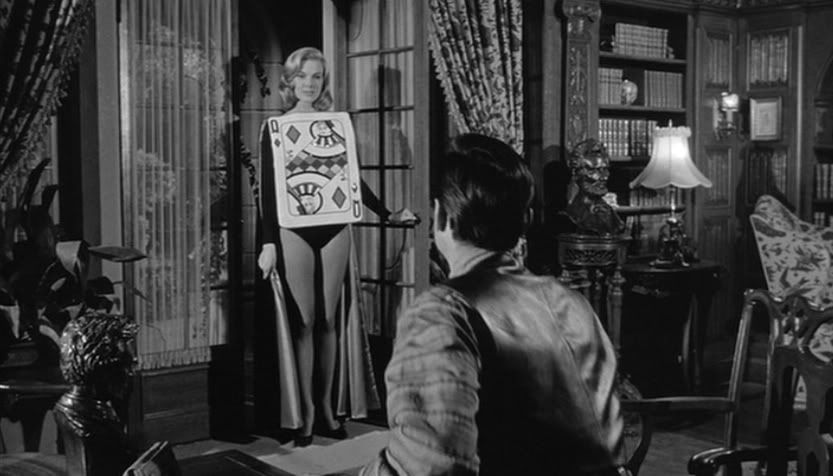 The image of Jocelyn as the Red Queen blends the two things that dominate Raymond's psyche: Jocelyn and the game of solitaire that unlocks his programming. It also underlines Shaw's troubled relationships with women.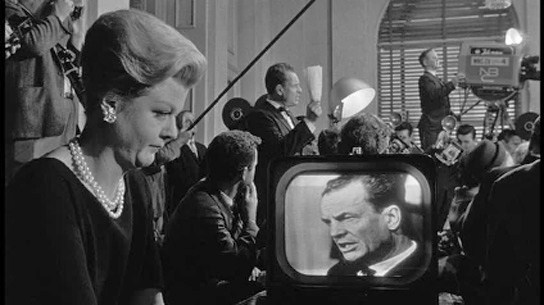 Mrs. Iselin cares not about who her husband really is...only the image which she can project unto the public.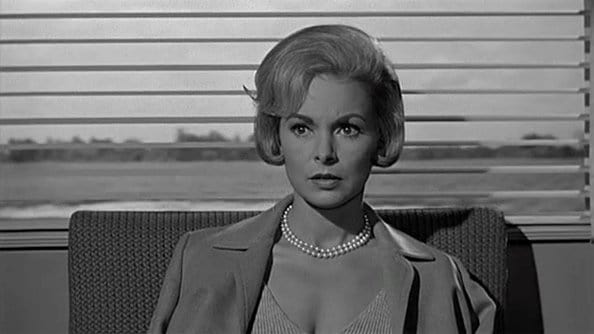 Now, I need to talk about the film's most unusual sub-plot, that of the relationship between Marco and Rosie Cheney (Janet Leigh).
Rosie first meets Marco on a train to New York a Marco attempts to discover the truth about Raymond. They exchange an odd bit of dialogue, which has led some to theorize Rosie is Marco's handler or an agent of some kind. The back and forth between Marco and Rosie comes across as code rather than naturalistic dialogue. Moreover,
when Rosie comes to bail Marco out of jail she says she's broken up with her fiance after meeting Marco. Her falling in love with Marco is very sudden- which isn't entirely unique to this film. While one can chalk it up to Marco requiring a love interest, in this movie you have to suspect everything.
Before I wrap things up, I want to focus a little more on the character of John Iselin. He's clearly a stand-in for McCarthy but his wife is the one pulling the strings. However Iselin is still dangerous- as Jordan points out when he's speaking to Mrs. Iselin. Jordan says Iselin is viewed as a fool but he does not. I couldn't help but think of Donald Trump during Jordan's speech.
The film uses the figures of the Iselins to comment on McCarthyism. The film says there is evil in America but in the form of those pretending to act in the country's best interests.
I want to mention another person involved with the film's production. Firstly, David Amram's score that invokes the melancholy and surreal nature of the film. Seco
The Manchurian Candidate
was made in the 60s, set in the 50s- yet remains somewhat out of time- an eerie else-world. Yet it still speaks to its time and ours as well. I appreciate the film now more than I did a decade ago. It's an evocative masterpiece that-akin to the brainwashing done to characters at the centre- imprints itself on our psyches- haunting us more than 50 years on.