I think doing top ten lists is probably the most difficult part of a film critic's job, whether professional or aspiring. This is the rough version of my top ten list. I like to think of this as a list of favourites rather than objectively "best" films. There are still films I need to see because I feel there are a number of them which could make this list. Anyway, here's my list!
1.
The Tree of Life-
Terrence Malick has created a film of contradictions- both cosmological and earthbound, distant and moving, odd and mundane, universal and personal, and while it may be Malick's most personal film, it's still very much part of his other work up until now. It's these contradictions which make
The Tree of Life
such a rich and unique experience. It shows us how an entire universe can be captured in a single household. It shows us how a father can be cruel but its that very cruelty which makes his children want to please him. It shows us the choice being living a path of either nature or grace is a choice between two people, a mother and a father. It also asks whether one can live with the choice they make or if its possible to live only one path. Malick supposedly is working on a six hour cut of the film. It's not too surprsing. Another contradiction of the film is while it feels self contained, it also has the feeling of continuely expanding. It's still developing and asking questions after it ends. That's why it haunts you.
2.
Bridesmaids-
Like most of Judd Apatow produced films,
Bridesmaids
has a somewhat messy structure and maybe goes on a little too long but with great performances which balance the comedic and the human, including Kristen Wiig's star solidifying and Melissa McCarthy's star making turns, some very funny set pieces, enjoyable characters, combined with an honest story about friendship,
Bridesmaids
still worked like gangbusters, or should I say bridebusters.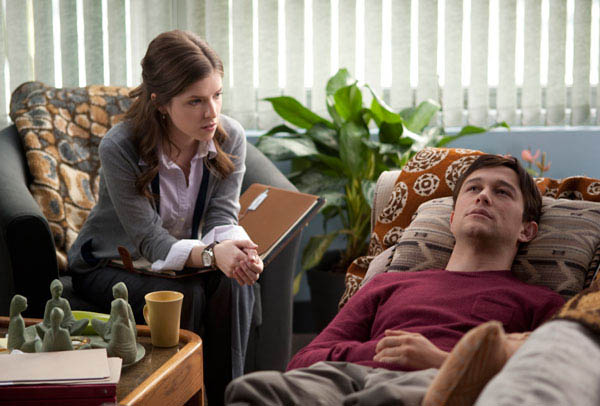 3.
50/50- 50/50's
comedic elements may feel to some like "sugar coating'' the harrowing reality of cancer but it's the film's injection of humour which makes the quieter moments where Joseph Gordon Levitt's Adam has to face the implications of his illness all the more effective.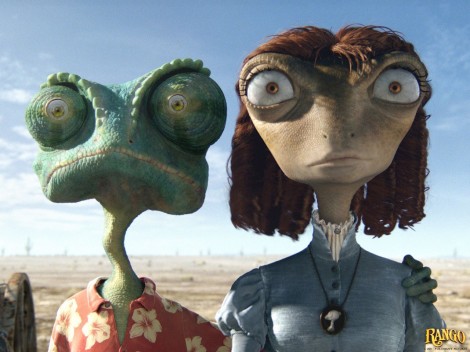 4.
Rango-
I had a real giggle (yes giggle) fest when watching this film for the first time recently. Not only is the animation visually beautiful, it's also visually very
funny.
There are shots where just the sight of Johnny Depp's chameleon Rango and other of the Desert town Dirt's inhabitants is just hilarious. While
Rango
may pack the emotional punch of films like
Toy Story 3
or
Wall-E, Rango's
eccentric sense of humour and great voice acting elevates it outside its somewhat conventional plot and makes it one of the pleasant surprises of the year.
5.
Drive-
Film noir at its most brutal and stripped down. While I still have some mixed feelings towards
Drive
due to its violence and how it's almost too stripped down, not always developing its characters as much as it can, I still have love for a lot that's in this film. Not only is Ryan Gosling great in the strong silent type role, ala Clint Eastwood or Steve McQueen, but
he and director Nicolas Winding Refn create a fascinating deconstruction of this kind of character. At the beginning they show us an efficient
,
calculated getaway driver, only known as Driver, but as the film progresses, and as soon as Driver beats a man's head in in an elevator, we know there's a much darker, unhinged personality in their. Think of it as
Taxi Driver
in reverse.
The (Roughly) Next Five:
6.
Moneyball
7.
Midnight in Paris
8.
X-Men: First Class
9: We Need to Talk About Kevin
10.
The Skin I Live In
Honourable Mentions:
Attack the Block, Captain America, Crazy, Stupid, Love., The Descendants, Harry Potter and the Deathly Hallows: Part 2, Horrible Bosses, Hugo, Insidious J. Edgar, Melancholia, Rise of the Planet of the Apes, Super
Still Need to See:
A Dangerous Method
,
The Adventures of Tintin, Albert Nobbs, The Artist, A Seperation, Contagion, Coriolanus, Friends with Benefits, The Girl With the Dragon Tattoo, The Help, The Ides of March, The Iron Lady, Mission Impossible: Ghost Protocol, The Muppets, Rampart, Submarine, Super 8, Take Shelter, Tinker Tailor Soldier Spy, Tyrannosaur, Uncle Boonmee Who Can Recall His Past Lives, Young Adult, War Horse, We Bought a Zoo
Looking Forward to 2012: My most anticipated film of this year, as I've said before, is
The Dark Knight Rises.
What I've admired about Christopher Nolan's past two Batman films is how Nolan and his creative team have made Gotham City feel very contemporary. Moreover, I like how through this contemporary prism, the filmmakers are still getting at the issues which have always been central to the character of Batman. I'm excited to see if the film can manage not to feel anti-climatic in comparison to
The Dark Knight,
which was ambitious and epic, and had Batman and Gotham City pushed to its limits by the Joker. I think Tom Hardy as Bane will be a great successor to Heath Ledger's already iconic portrayal of the Joker and Anne Hathaway's Selina Kyle/Catwoman will most likely be more interesting than the Rachel Dawes character. Third movies are tough for any franchise, particularly superhero films- think
Spider-Man 3
or
X-Men 3.
But I think Nolan and his team are committed to this character and the specific interpretation of Gotham City they've established. I think this has a good chance of breaking the super-hero third movie curse.
I'm really mixed about
The Amazing Spider-Man
. I like Spider-Man and it has a strong cast. It's just that honestly I'm getting a little sick of Emma Stone. Believe me, you don't want me to start with my love/hate relationship with her. I'm also not sure if this film, even if it'll strike a different tone than Sam Raimi's trilogy, will offer anything new to the super-hero genre. There have been so many super-hero films in the last decade that it's arguably become overkill. Returning to Nolan's Batman films,
The Dark Knight,
as I said, was
ambitious. It was this ambition as well as the willingness to go beyond pure escapism, to create something thematically dense and assertive- and psychologically intense, which always stands out when I think about the film. While I don't expect or want every super-hero film to be like
The Dark Knight
, since it's sometimes
too
serious and oppressive a film, none of the other superhero film released since
The Dark Knight,
not even
Watchmen,
have really grabbed me the same way that film did. Again, while
The Amazing Spider-Man
doesn't have to be like
The Dark Knight,
I hope it goes in a direction that really surprises and reaches an emotional high which resonates afterwards. I'm just afraid it'll like more of a set-up movie, where we have to wait until the second installment to get to the really good stuff.
While The Avengers aren't close to my heart the way Batsy and Spidey are,
The Avengers
is the first of its kind: it's a superhero epic which has been set-up through numerous Marvel produced films, establishing a continiuity similar to that of the Marvel universe and bringing together Iron Man, Captain America, The Hulk and Thor. It's sure to be a spectacle and arguably, if it's a success, it'll have more impact on future superhero films than even
The Dark Knight Rises.
My most anticipated film after
The Dark Knight Rises
is
Skyfall
, the 23rd James Bond and the third starring Daniel Craig. I love
Casino Royale
, it's my favourite Bond film, and after seeing
Quantum of Solace
a few times, despite it being underdeveloped in some areas, I would argue it's one of the more underrated Bond films, economic and brutal. I also think Daniel Craig is perfect for this kind of Bond, cold, rugged, broken hearted and angry. It'll be interesting to see how the filmmakers deal with Bond being Bond after the last two films where about him becoming Bond. I hope he doesn't lose his humanity, that they strike a balance between the darker Bond established in the last two films, and the Bond we're more familiar with, preferably Sean Connery. Q is back! Ben Whishaw is playing the gadget master and I kind of love the idea of having a younger Q in this franchise. Sam Mendes is directing and I think he's bring a elegant visual style to the film, particularly with Roger Deakins as his cinematographer. While the Bond series may seem as overkill as the way I've described super-hero films, as I was saying about
The Dark Knight
, this new Bond franchise is going in interesting directions, which makes them still worth the audience's time.
Ridley Scott hasn't made a science fiction film since his 1982 classic
Blade Runner.
Along with 1979's
Alien,
Scott has made two of the most iconic sci-fi films of the 20th century. His new film this year, Prometheus, started as a prequel to Alien but from what Scott has said, it's won't technically be a prequel but will be part of the same universe, with the same "D.N.A" from the first movie creeping in. I'm facinated to see how it plays out. The prospect of Scott returning to the genre where he's arguably done his best work is exciting, particularly if it brings him back to the franchise he started with
Alien
.
This new year brings a lot of exciting films to look forward to. Hopefully they'll live up to the hype!