It's almost September which means we're coming to my favourite time of the year: Oscar Season! Well, maybe's it not that time yet but certainly once we get in to the fall, the studios unleash their big guns, the films which they feel have the best chance at claiming Oscar Gold. I'm going to talk about some of the films coming out in the fall, along with films released earlier this year, in no particular order, and theorize about their Oscar chances.
J. Edgar-
Clint Eastwood's biopic about the infamous head of the F.B.I, J. Edgar Hoover, is one of those films which has all the markings of an Oscar contender. It has the prestigious director, Eastwood, the leading man, Leonardo DiCaprio, diving in to the role of a real person. It's also written by the Oscar winning writer of Milk, Dustin Lance Black. I felt DiCaprio should have been nominated for Shutter Island last year and I feel he has a pretty good chance of taking the gold this year, possibly being the one to beat. Arnie Hammer, who broke out last year as th Winklevoss twins in
The Social Network
, plays the assistant director of the F.B.I. and rumoured lover of Hoover. I don't how much the film will delve in to Hoover's supposed homosexuality but I think Hammer will get some plum scenes with DiCaprio and may have a good chance of receiving a Best Supporting Actor nomination. Naomi Watts also stars as Hoover's secretary, Helen Gandy. Like Hammer, she's probably has ample screen time with DiCaprio and if the Best Supporting Actress race doesn't get too croweded, I can definitely see her getting a nomination. It'll be interesting to see if this is Eastwood's Oscar comeback. While Changeling and Invictus scored nominations for its actors, an Eastwood has received a Best Picture or Best Director nomination since 2006's
Letters From Iwo Jima.
I feel his time away from the Best Director category was a good thing, for this film at least, and a nomination this year for both him and the film, for now at least, seems like a good bet. Black also seems to have a good chance of getting a screenwriting nomination.
The Help
- Controversy will get you noticed in the Oscar race but it can also hurt your chances.
The Help
seems like the type of film the academy loves. It deals with an important social issue, which is the treatment of black maids in 1960s Mississippi and the plight of two maids, played by Viola Davis and Octavia Spencer, as well as a young white woman named Skeeter, played by Emma Stone, to reveal the truth about these conditions in a book. It's a period piece, and from the reviews it sounds like an acting showcase, and by a nearly all female cast to boot. Unfortunately, the film has been criticized for distorting historical fact as well as falling prey to the "white saviour" model of storytelling, where a story about African Americans is told through the perspective of a white character who ultimately saves the black characters. On the other hand, I've also read things which say it is the story of the black maids more than it is about Skeeter. The controversy could hurt the film but I think it's main problem will be retaining momentum through the fall season. From the praise Davis has been getting, I think she may be close to a lock for a Best Supporting Actress nomination, or as some have been saying, a Best Actress nomination. It all depends on the campaigning. Spencer's performance has also been praised and I can both her and Davis in the Best Supporting Actress category. Stone's chances seem up in the air at the moment. She's Hollywood's new "It Girl" and seems well liked in the community, which could definitely push her in to the Best Actress category. Again, it all depends on campaigning. Some have even suggested her for the Best Supporting Actress category, where she could compete with Spencer. Davis could take a Best Actress slot. Hey, let's go even further and put Davis and Spencer both in the Best Actress race and have Stone compete with Bryce Dallas Howard or Jessica Chastain. Sorry, that's getting pretty complicated. I do have a feeling Spencer will be supporting either way. Also, in a reply tweet from Entertainment Weekly's Dave Karger, he told me the academy would probably focus more on Davis and Spencer than Stone. Maybe not getting a nomination will be the best thing for Stone since she's already been a little bit too overexposed. Tate Taylor, close friend of Kathryn Stockett, the author of the novel on which the novel is based, may not be a name people know well enough to get a best director nomination; most of the praise has been going to the actresses. A lack of a best director nomination could also hurt it's chances at a nomination for Best Picture. Again, I think it needs to keep its momentum through the season.
The Tree of Life
- The film that caused a 100 walkouts, thanks to some dinosaurs and the creation of the universe. The Tree of Life's buzz seems to have died down but I think a film like this, once seen, is hard ro forget. If it gets a campaign push when it comes to DVD and Blu-Ray, I think this film, due largely to its ambition, as well the the legendary status of director Terrence Malick can get a Best Picture nomination. Winning is another matter. The Tree of Life, which juxtaposes the life a 1950s family with a sequence where we see the creation of the universe, is an impressionistic film, one which abandons a linear narrative structure and a clear cut ending. The film is a divider and that hurt its chances winning Best Picture. I think Brad Pitt and Jessica Chastain are terrific as Mr. and Mrs. O'Brien but due to the impressionistic style of the film, their performances may be overlooked. The cinematography by Emmanuel Lubezski and original score by a Alexandre Desplat who was just nominated for
The King's Speech
also have solid chances of getting nominations. I also feel the editing, which is the core of the film's aesthetic, also has a good chance of being noticed.
Midnight in Paris-
Director Woody Allen's ode to romantic nostaligia has been called his best film in ages. I really liked the film but I feel it's too small a film to get a Best Picture nomination. It's best chance is probably in the Best Original Screenplay category where they may even decide to honour him for the film. Owen Wilson gives what may be his best performance here but I don't think it's the kind of role which can lead to a nomination.
Drive
- Ryan Gosling, who some feel was snubbed for last year's
Blue Valentine
, which resulted in a Best Actress nomination for Michelle Williams, has gotten some serious buzz for his performance as a Hollywood stuntman who moonlights as a wheelman. The film is supposed to be excellent and it'll be interesting to see if the academy warms to it.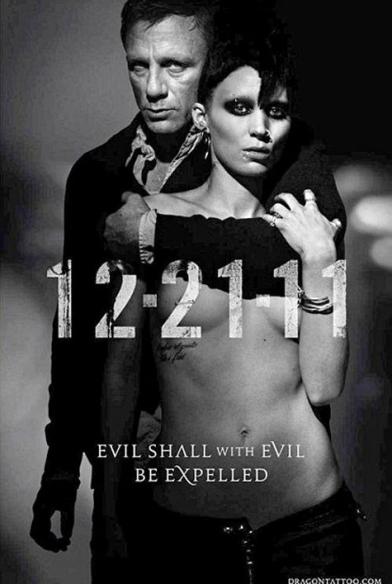 The Girl With The Dragon Tattoo
- Already being marketed as "The Feel Bad Movie of Christmas," David Fincher's take on the international bestseller will rise and fall, I think on the performance of Rooney Mara as computer hacker Lisbeth Salander. Mara played Mark Zuckerberg's girlfriend in Fincher's last film
The Social Network
and he clearly saw something in her while they were filming and during the audition process which led Fincher to pick her over more established actresses. If Mara hits it out of the park, I think she'll have a great chance at securing a nomination. I don't know if Daniel Craig's role, despite being the lead, will be baity enough to get a nomination but only time will tell. Those who've read the novel know this is dark and gruesome material and fortunately the academy can embrace movies like this, with
Black Swan
being nominated this year and
The Silence of the Lambs
winning Best Picture nearly twenty years ago. Many feel Fincher was robbed this year for
The Social Network
so there is the possibility he may recieve a make-up Oscar this year.
Extremely Loud and Incredibly Close
- Based on a novel by Jonathan Safran Foer, this film chronicles the story of nine year old Oskar, whose father died two years earlier on 9/11. He discovers a key which belonged to his father and proceeds to journey around New York to find information about the key. The film will concede with the 10 Anniversary of the attacks, which add to its emotional poignance. The academy also seems to love its director, Stephen Daldry, so I can see this possibly being a contender if its subject matter, which from what I gather exists in heightened reality, can work on film. It's been a while since Tom Hanks was nominated for an Oscar but I don't know if his role as Oskar's father will be his return to the race. It all depends on how the film is received and whether the role is fleshed out enough.
The Ides of March
- George Clooney received a Best Director Nomination for his work on
Good Night, and Good Luck
and I can see him getting another Best Director nomination for this political drama about a staffer (Ryan Gosling), learning about politics while on the campaign trail for a presidential candidate, played by Clooney. If the role is meaty enough, Clooney could also score a nomination or either Best Actor or Best Supporting Actor. It depends how Clooney is campaigned. I wonder if Gosling will be pushed for this film instead of
Drive.
I sense that Gosling is the lead and Clooney is supporting. Phillip Seymour Hoffman and Paul Giamatti could also score nominations if their roles are big enough, though it'll probably be Clooney who gets the push.
My Week With Marilyn
- Michelle Williams could score two consecutive Best Actress nominations if she's nominated for playing Marilyn Monroe in this film. It seems like the kind of role Oscar would love to nominate. Kenneth Branagh plays Laurence Olivier but I feel much of the attention will go to Williams. Emma Watson also stars but I believe her role is small so while it's not hard to see Watson getting a nomination some time down the road, it probably won't be for this film.
That's all for now. Certainly there are quite a few more films to talk about but I just wanted to touch on a few possible contenders. Hopefully the race this year will have some actual suspense and excitement.